Heat Treat Services
Hi-Life tools have been providing a heat treatment service for a wide range of tool making, engineering and medical device companies for more than 20 years
Heat Treat Services (HTS)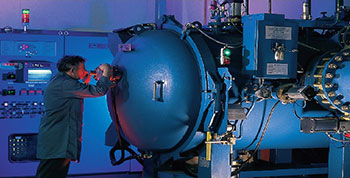 Hi-Life tools have been providing a heat treatment service for a wide range of Irish based tool making, engineering and medical device companies for more than 20 years.
The company has built up a vast amount of experience of heat treating a wide range of metals from tool steels, HSS, stainless steels and exotic metals. These can be treated using the standard processes or a bespoke process can be developed to suit the customer requirements.
The equipment list includes four vacuum furnaces of which two are validated for medical devices and eight tempering furnaces of which one is validated for medical devices and a cryogenic treatment unit with all the instruments on these furnaces calibrated twice annually and all processes logged on a chessell data logger to ensure that all processes are kept under the tightest control.
There is also a metallurgical laboratory on site where testing, analysis and advice on material condition can be provided on request.
Services provided:
Vacuum Hardening
Tempering
Annealing
Stress relieving
Normalising
Age Hardening
Precipitation Hardening
Cryogenic treatment
Heat Treat
Data logging: All furnaces have their process data logged using a chessell data logger and are stored on a server for retrieval and analysing where required.
Validation: We also can offer the validation of equipment/processes for a customer where appropriate.
Contact Us
Our customers for Heat Treat Services are some of the most recognised brands in the medical, engineering and tool making markets. Contact us today for more information on our HTS.
AMERICAS

North America Service Centre
28 Sword Street
Auburn, MA 01501
Toll Free: (800) 343-6068
Tel: (508) 753-6530
Fax: (508) 753-0127
Email: nasc@ptgtools.com
United States, Canada, Central and South America Sales - Header Tools
John Gohedotte
28 Sword Street
Auburn, MA 01501
Tel: (734) 674-3767

EUROPE

European Service Centre
Bays 122-125
Shannon Industrial Estate,
Shannon, County Clare,
Ireland
Tel: +353 61 239503
Fax: +353 61 239502
Email: esc@ptgtools.com
ASIA

Asia Service Center
8 Nan Bang Road, Kunshan
Jiangsu Province,
China 215300
Tel: +86 512 5771 9210
Fax: +86 512 5771 9239
Email: asc@ptgtools.com
AMERICAS

North America Service Centre
28 Sword Street
Auburn, MA 01501
Toll Free: (800) 343-6068
Tel: (508) 753-6530
Fax: (508) 753-0127
Email: nasc@ptgtools.com
United States, Canada, Central and South America Sales - Header Tools
John Gohedotte
28 Sword Street
Auburn, MA 01501
Tel: (734) 674-3767

EUROPE

European Service Centre
Bays 122-125
Shannon Industrial Estate,
Shannon, County Clare,
Ireland
Tel: +353 61 239503
Fax: +353 61 239502
Email: esc@ptgtools.com
ASIA

Asia Service Center
8 Nan Bang Road, Kunshan
Jiangsu Province,
China 215300
Tel: +86 512 5771 9210
Fax: +86 512 5771 9239
Email: asc@ptgtools.com